The Problem
In the industrial infrastructure prefabrication sector, assemblies and modules are made that don't fit onsite. This results in substantial costs related to rework, legal disputes, and claims. Assemblies don't fit because measurement tools are inadequate. Fabricators rely on manual measurement tools that can be inaccurate. Dimensional quality control information is hard to understand and share.
The Solution
We provide a cloud-based software solution to fabricators and project owners by supporting rapid and accurate measurement and comparison. Share your results with anyone anywhere. Store and share photos, videos, and third-party reports. Our solution can provide a 6-month ROI due to: .
30% reduction in prefabrication rework events
100% reduction in onsite rework events
QC de-bottlenecking for faster project completion
Avoid Rework
Use Glove Fit platform to detect and visualize deviations from the design in 3D and cut your rework by 30%. Our platform is designed to be used by your craftworkers. Accurate to satisfy your requirements. Fast so that it can easily integrate with your work processes.
Prevent Disputes
Construction disputes are common. Resolving them eats up valuable project time. Prevent disputes with Glove System's platform. Share your 3D images, reports, and other information with your clients. Then, collaborate to understand your data.
Support Claims
Support claims with easy access to all your assembly data in your Glove Portal. This includes every piece of data (3D pictures, photos, reports, emails) that has been shared with you or by you.
Increase Your Quality
Spot deviations and reduce rework costs on fabricated assemblies with highly detailed 3D dimensional measurements stored and shared in the Cloud.
:
The Trend in Pre-fabrication
While the trend towards pre-fabrication has many benefits, it also introduces some challenges for fabricators and manufacturers serving the construction and infrastructure industries.
1. It is difficult to fabricate to the higher tolerances with current tools.
2. Verifying compliance before shipping is difficult with current technology.

As a result, approximately $6-$12 billion dollars is lost annually in the rework of assemblies and in delays associated with the return, re-build and re-ship of fabricated work.
We help industrial fabricators improve quality and reduce costs and risk.
       Glove Systems has saved us thousands of dollars in project delays, overseas shipping costs and avoiding deploying our inspection teams to the client's site.
Why Choose Glove Systems?
Build To Spec
Consistently accurate & shareable measurements.
Catch mistakes before they become costly.
Increase QA & QC Capacity
Accurately inspect complex components, assemblies, and modules - reduce rework.
Increase your volume, speed, and confidence.
Better Risk Management
Glove increases supply chain visibility, reducing claims and litigation costs.
Sign off on work in 3D before shipping.
Glove Systems 3D Fabrication Control Platform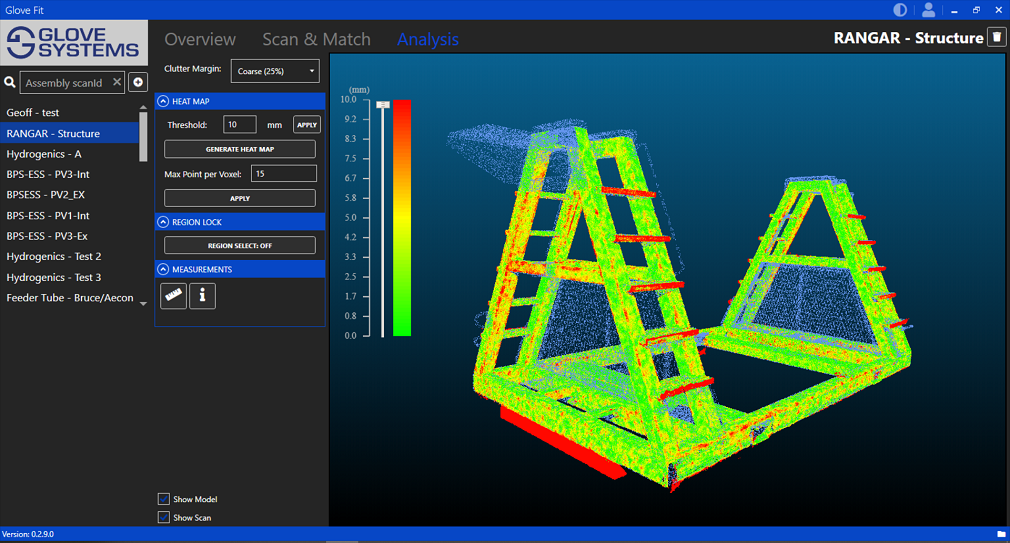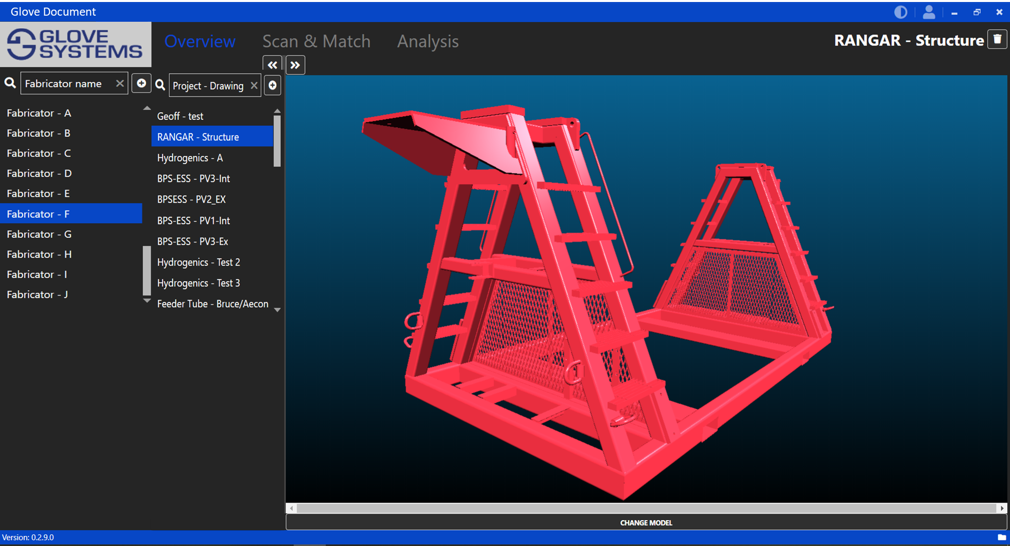 Compare received components against standard models.
Verify termination points are within tolerance.
Enable rapid, accurate, and objective measurements while fabricating complex assemblies.
Provide Transparency, Earn trust, Win business!
All your documents are stored in the cloud. Mitigate Communication and sharing risks by better sharing and collaboration workflows – no more back and forth emails and texts. Use Glove Systems to share your point clouds, models, pictures, and reports with anyone inside our outside of your team by simply clicking on the share icon.